Therapeutic Treatment Home Services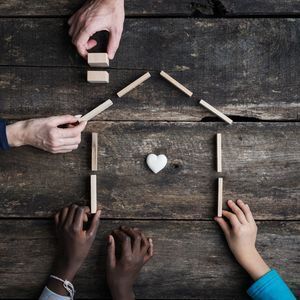 Therapeutic Treatment Home Services (TTHS), formerly known as Treatment Foster Care, is a therapeutic service placement in specially trained and agency supported homes in our community. These services are intended to support youth with severe emotional and behavioral health needs, as well as their families, with a multi-disciplinary treatment team. TTHS is a unique, clinically effective and cost-efficient model of care that provides youth with individualized services that encompasses safety and cultivates therapeutic progress within a home environment.  TTHS provides a high level of intensive treatment intervention while youth to continue to live in our community, in a home environment, and engaging in normal age appropriate activities.
In TTHS, the Therapeutic Treatment Parent, in the context of a family, home and community setting, is called upon to affect change through the uniquely supportive and caring relationship that is formed. The TTHS program places a youth with a Therapeutic Treatment Parent, who is carefully selected, trained and matched to the youth's needs. The Therapeutic Treatment Parent works closely with the youth and their family through a coordinated multi-disciplinary treatment team approach to implement the youth's treatment plan. Members of the team may include a case manager, clinical therapist, parent support specialist, licensing supervisor, behavioral health specialist, psychiatrist, guardian ad litem, etc.
The Therapeutic Treatment Parent is empowered to act as a key agent in implementing the youth's treatment plan, providing intensive oversight, facilitating behavioral interventions, providing medication monitoring, maintaining contact with the parent / guardian and other members of the treatment team as well as make available an array of therapeutic activities and assist in the successful transition from TTHS to reunification with the youth's family. When a family is not available for reunification Therapeutic Treatment Parent and the treatment team assists the transition to independent living or alternative permanency placement.
TTHS can be considered a step-down in level of care from a residential treatment setting or a step-up from an outpatient setting. Whenever possible, the youth's family is engaged throughout the treatment process to address concerns that lead to an out-of-home placement and to support the family reunification process.
A majority of youth served in the TTHS program have severe behavioral issues as a result of early childhood trauma that can be treated effectively in reparative relational experiences that Therapeutic Treatment parents can provide as well as model and foster between the youth and their family. Our TTHS program is built on the same foundation of our other community-based services that are strongly rooted in the wraparound process delivered through a trauma-informed treatment lens using a client and family focused approach.