Welcome to AK Child & Family
AK Child & Family brings hope to troubled young lives through a broad range of mental health services. Our residential psychiatric treatment, community based programs and treatment foster homes offer the structure, care and expertise to help young people facing significant challenges build strong, positive, healthy lives.
We are committed to working collaboratively to create a supportive environment that promotes wellness and resilience and also strengthens connections between home, school and the community for all students. Families and students are encouraged to be active participants during treatment. A young person coming into our care receives an individualized treatment plan that helps establish the direction of treatment. Each young person will also have a treatment team. This team includes a variety of people who agree to support the student through their treatment. A parent or family member, guardian, case worker, teacher, clergy or close friend are some examples of people who might be on a treatment team. Beyond our professional staff, the decision of who is part of the treatment team is guided largely by the student and their parent/legal guardian.
Our staff and Treatment Foster Parents receive extensive training. Our Training Department brings professional development not only to our staff but also to organizations across the state. In addition to on-site training, staff members frequently attend conferences with leading professionals from across the country. This focus on professional development ensures each young person and each family receives the high-quality care they deserve.
Mitzvah (a good deed)
By Angela Rush, Director of Donor Development
December 2, 2013
In this season of giving, sharing, goodwill and cheer, I wanted to share a quick story of my own from this past week.
As many of you know, last weekend was the annual Mitzvah Mall at the Congregation Beth Shalom. At this annual event people from all over town come to make generous donations in the names of their loved ones, of all types and sizes, to a variety of non-profit organizations in attendance. It was there, representing AK Child & Family, that I had my heart warmed by a wonderful young soul.
While sitting at our table I was approached by Aaron, who attends elementary school. He started the conversation as one might expect of any young boy his age; discussing the candy at the table, but it quickly turned serious and quite business-like. This young man wanted to know exactly where his well earned Mitzvah Bucks would go, how it would be used and who it would help. We talked about the different recreational activities our children participate in off campus with our staff. He was quite the serious philanthropist.
After I had answered all of this gentleman's questions, he gave me a stern look and announced that he would like to make a donation… with one caveat. He wanted me to pass a message to the children to whom this would go. Aaron is quite fond of the museum and wanted other children to have that experience and also to play football outside. I took out a pen and paper as I didn't want to miss anything. It was then that Aaron decided to write the message himself.
A short while later Aaron's parents visited the booth after talking with their son, as they too wanted to know more about AK Child & Family. Aaron had not told his parents he wrote the note to our children and it was especially beautiful to share what he had written from his heart. Not only did he give his Mitzvah Bucks but also gave a message of hope to the children we serve. I feel blessed to have met this young man and his family. With their permission I am sharing with you the note he wrote at the Mitzvah Mall. The note from Aaron reads, "The museum is great it has lots of fish a globe of the weather and science. I hope you find good homes."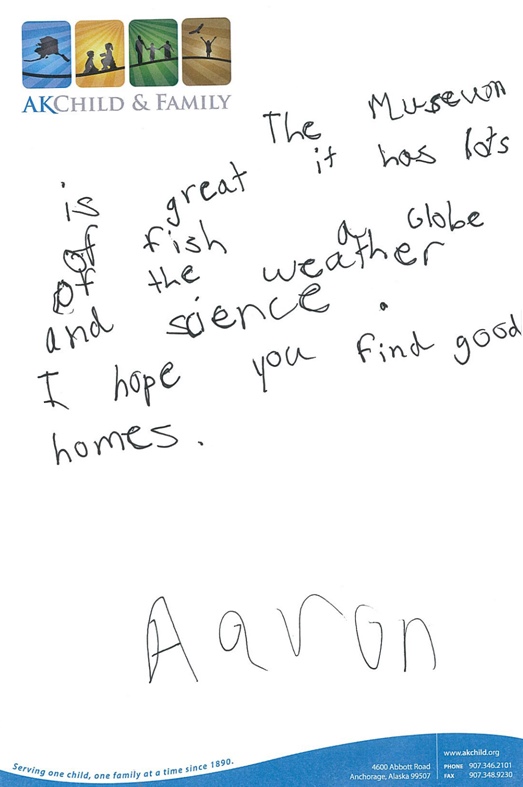 ---
---