In Memory of Vickie Hasenstaub

December 27, 2013
One of our long term AK Child & Family supporters and former employees, Vickie Hasenstaub, recently passed away.
Vickie is survived by her husband Andy Hasenstaub (AK Child & Family's Maintenance Coordinator) and two adult children Andrea and Dan.
Vickie worked at the agency for 10 years and contributed so much to our mission and to the welfare of children in our care. She was a kind person with a generous and thoughtful spirit. She had a way of making people feel special, and she was always quick with a hug. She was also quick to speak up if she saw something that would negatively affect the children. She had a wonderful work ethic and a great sense of humor. She had the ability to laugh at herself, if she made a mistake, and was a wonderful caretaker of our records. Her words of encouragement and patience were greatly appreciated in her task of training staff members. The wealth of knowledge she displayed was largely self-taught and she was constantly learning. Vickie spent her working life seeking to improve the lives of children and families throughout Alaska. In doing so she left an indelible mark on this agency and the many hundreds of families who benefited from her kind words, support, and steadfast belief in improving lives.
Officiating over the memorial our own Director of Spiritual Life, Kelli Williams, shared many stories about Vickie's passion for her family, the mission and work conducted here at the agency, as well as her high jinks!
Our hearts and prayers go out to the Hasenstaub family as they come to terms with Vickie's passing Vickie's spirit remains with those of us who had the opportunity to work with and know the wonderfully caring lady who never failed to advocate for children in need of love and support.
It was the Hasenstaub family's wish that in lieu of flowers donations be made to AK Child & Family.
&nbsp
---
&nbsp
Merry Christmas!
By Kelli Williams, Director of Spiritual Life
December 24, 2013
"…and you shall name him Jesus – 'God saves'-… this happened to make clear the full meaning of what the Lord had said through the prophet, saying, "Behold, a virgin shall be with child, and bear a Son, and they shall call His name Emmanuel… meaning "God is with us." Matthew 1: 21-23
God is with us! The time has come once again to celebrate the Holy birth! The night when out of the silence came music; out of the darkness came light; out of uncertainty came promise; Hope was born that night!
One of the ways we celebrate this miracle at AK Child & Family is to give each student a personalized gift. This year, these personalized gifts are in the form of T-shirt pillows. These gifts are the work of many hands. What a blessing to have so many people freely giving of their time, resources and care to ensure our students receive gifts that nurture their spirits! Countless times I've heard the words, "Thank you! I've never had anything with my own name on it." The gift of being called by name goes back to our very beginnings…"The Lord called me from the womb, from the body of my mother God called my name."*
We're so thankful for all who support our mission in countless ways – including ironing letters on to T-shirts! When we work together to bring cheer and light into dark places indeed God is with us!
Merry Christmas! And God bless us. God bless us every one!
*Isaiah 49:1
&nbsp
---
&nbsp
Yupik Yo-Yo
By Danielle Giroux, Clinical Therapist
December 16, 2013
"Children have never been very good at listening to their elders, but they have never failed to imitate them" (James A Baldwin). This quote embodies the spirit of the Maplewood crafting group on November 19th when we were joined by a Yupik elder who taught us how to sew traditional Eskimo yo-yo's. As she moved her hands delicately with each stitch, explaining the importance and value of crafting the yo-yo, the girls sat in a circle on the floor and watched motionless. All eyes were fixed on the careful hands of the elder. Voices were hushed as she explained the steps to creating the yo-yo in a soft, inviting tone.
"The Eskimo yo-yo is a training version of the bolo weapon. To play with an Eskimo yo-yo, get the two orbitals spinning in opposite directions...it's harder than you might think!" (University of Alaska Museum of the North).
The first step in creating a yo-yo was to cut the fabric into two identical triangles and two identical circles. As the elder explained, this is traditionally done with seal skin or another type of fur. However, for our yo-yo's we used felt and quilt stuffing. The second step in creating the yo-yo was to select the beads that you want for a design. The elder showed each of us with a kind smile how to stitch five beads into the shape of a flower on the front of each yo-yo. She explained that "the yo-yo's must be heavy or they won't spin right."
The third step in creating the yo-yo was to stitch the triangle together, stuff it with fluff and then sew on the bottom circle. It should be emphasized that you must sew the yo-yo string onto the fabric. If the yo-yo string is not secure then the yo-yo will go flying off when you attempt to spin it. And, this is exactly what happened when one of our overzealous girls began swinging her finished product. The yo-yo popped off and beads went everywhere. Both the staff and students got a good laugh.
The students really enjoyed this activity. They were engaged and very happy while sewing. Making the yo-yo's also enabled many of the girls to open up and talk to one another. When asked what they thought about the project one of the girls said "It was a little tricky but fun because the grandma made it sound simple."

---
Leadership at AK Child and Family: Stay Humble, Stay Hungry
By Rachel Wahto, MS, Clinical Therapist
December 10, 2013
Recently I have faced the challenge of group therapy with young men. Many of these delightful young men are less than excited about the opportunity to discuss their feelings in a group setting. The experience has given light to a set of strengths many of our employees master so artfully, leadership. What I have gathered from reflecting on my successes and failures doing therapy thus far is that one of the key components of good group therapy is good leadership. However, group therapy requires leadership from within. This week at Newhall Cottage we did some exercises based on building leadership skills.
One of the reoccurring themes I have seen in the young men we serve is a craving for adult males who are willing to be positive role models for them. Our strong, empathic, athletic, and firm male staff members have a lot to offer our youth. Although I can wear many hats within the milieu between the different positions I have held over the years, one hat I cannot wear is positive male role model. This week, the youth were asked to interview male staff they identified as good leaders on campus. The goal was to create awareness of what qualities respectable men hold. The following are the questions, responses, and reflections of the staff and boys following the interviews.
When asked about how they define leadership and what characteristics good leaders have the residential staff interviewed provided the following answers:
Coach T's definition stated "Leadership is when people can demonstrate the best way of doing something.", and followed that up with a great quote to describe the characteristics of good leaders "stay humble, stay hungry". TPS Nathan Johnson indicated "Good leaders can see the common goal, facilitate good communication, and are able to identify and build off of the strengths of those they are leading". Gould PTC Jason stated "Good leaders lead by example, and hold themselves accountable". Newhall PTC II Caleb described "good leaders are good listeners, and guide the group based on the wants and needs of the people". Gould PTC Willie described good leaders as "having courage, and being willing to stand up for what is right".
From my perspective, it is just as important to support each other as it is to support the youth. A strong backbone is constructed of many small pieces connected together. It is flexible but firm. I think what we did in CT group this week was catch the unit staff being good (which they've been doing diligently for years). Thank you for being good leaders, good role models, and good citizens. Thank you for sharing the wisdom and knowledge you have collected in your life with these youth who haven't all had men (or adults) take the time to sit down and explain to them how to get where they want to be and what that looks like. I say this to all of the unit staff, not just the ones who were kind enough to participate in our interviews. The work you are doing is directly impacting our community in a positive way. It is commendable to give what you give of yourself.
&nbsp
---
&nbsp
Book Drive
By Kristie Nelsen, Special Projects Facilitator
December 5, 2013
AK Child & Family has launched a Virtual Book Drive through First Book to provide brand-new books to our kids! For every $2.50 donated to our Virtual Book Drive, we can purchase a brand new book from First Book. First Book is a fantastic organization that has distributed more than 100 million books to programs and schools serving children from low-income families throughout the United States and Canada. By making new, high-quality books available on an ongoing basis, First Book is transforming the lives of children in need and elevating the quality of their education.
We've set a goal of $1,000, which will provide 400 new books to our residential units. With 7 residential cottages, that's over 50 new books for each unit. If you would like to donate to our Virtual Book Drive visit our page at First Book.
&nbsp
---
Mitzvah (a good deed)
By Angela Rush, Director of Donor Development
December 2, 2013
In this season of giving, sharing, goodwill and cheer, I wanted to share a quick story of my own from this past week.
As many of you know, last weekend was the annual Mitzvah Mall at the Congregation Beth Shalom. At this annual event people from all over town come to make generous donations in the names of their loved ones, of all types and sizes, to a variety of non-profit organizations in attendance. It was there, representing AK Child & Family, that I had my heart warmed by a wonderful young soul.
While sitting at our table I was approached by Aaron, who attends elementary school. He started the conversation as one might expect of any young boy his age; discussing the candy at the table, but it quickly turned serious and quite business-like. This young man wanted to know exactly where his well earned Mitzvah Bucks would go, how it would be used and who it would help. We talked about the different recreational activities our children participate in off campus with our staff. He was quite the serious philanthropist.
After I had answered all of this gentleman's questions, he gave me a stern look and announced that he would like to make a donation… with one caveat. He wanted me to pass a message to the children to whom this would go. Aaron is quite fond of the museum and wanted other children to have that experience and also to play football outside. I took out a pen and paper as I didn't want to miss anything. It was then that Aaron decided to write the message himself.
A short while later Aaron's parents visited the booth after talking with their son, as they too wanted to know more about AK Child & Family. Aaron had not told his parents he wrote the note to our children and it was especially beautiful to share what he had written from his heart. Not only did he give his Mitzvah Bucks but also gave a message of hope to the children we serve. I feel blessed to have met this young man and his family. With their permission I am sharing with you the note he wrote at the Mitzvah Mall. The note from Aaron reads, "The museum is great it has lots of fish a globe of the weather and science. I hope you find good homes."
&nbsp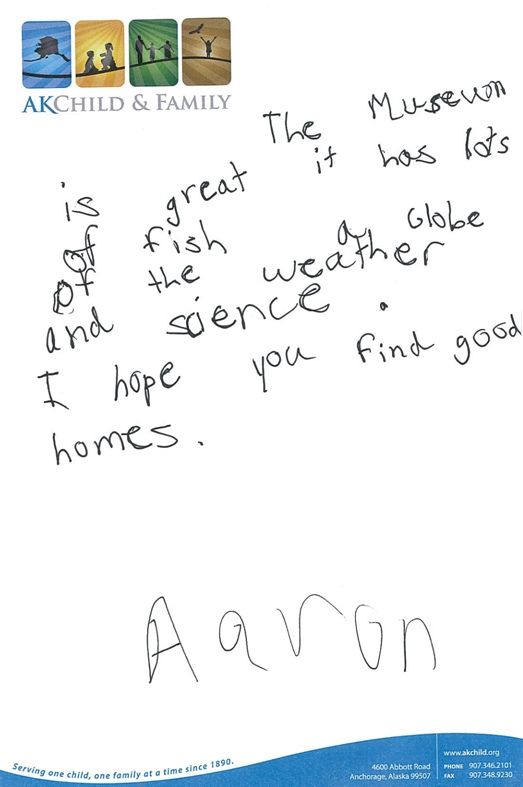 ---
Happy Thanksgiving!
By Kelli Williams, Director of Spiritual Life
November 25, 2013
I love Meister Eckhart's quote, "If the only prayer you ever say in your entire life is thank you – it will be enough." Indeed an attitude of gratitude can draw us nearer to the heart of God. With this in mind we enter this week of THANKS-giving. I trust I speak for many of us here at AK Child & Family as I list a few of our gratitudes.
For our students and families – THANK YOU for the honor and privilege of serving you.
For our staff – THANK YOU for your hard work, dedication, creativity, perseverance and care.
For our donors – THANK YOU for your support of our mission – we could not do this work without your generous care.
For our volunteers – THANK YOU for being God's hands and feet in this place.
For our prayer chain participants – THANK YOU for carrying and uplifting that which is on our students' hearts and minds.
For school officials and teachers – THANK YOU for all the ways you partner with us.
For those who advocate for youth and families – THANK YOU for working to make our communities a better place for us all.
For our Board of Directors – THANK YOU for your work to insure that AK Child & Family continues to be a thriving and growing agency that serves youth and families as well as possible.
For our mission – THANK YOU for being the guide and compass for all that we do.
On this THANKS-giving week these are just a few things we are grateful for here at AK Child & Family. And so let us, …'enter God's gates with thanksgiving, and God's courts with praise! Give thanks to God, bless God's name! – Psalm 100:4
&nbsp
---
'Play It Again Sports' Fundraising Opportunity
Thomas "Coach T" Gardiner, Recreation & Education Supervisor
November 22, 2013
We are excited to introduce an awesome new program and partnership that will have an enormous impact on the recreation opportunities of our students. Recently, the Recreation Department staff visited the Old Seward location of Play It Again Sports to inquire about exchanging old equipment and using it to purchase newer equipment. Play It Again Sports has always been a great supporter of our agency with its exchange program. We spoke with the District Manager, Mr. Chuck Tillman, and he offered information about their Used Donation Program. The program is simple; people in the community bring in their used sporting equipment and Play It Again Sports credits the AK Child & Family account with in-store credit. The community donor just has to tell the Play It Again Sports staff that the equipment is being donated to benefit us! The donor is then provided with a receipt for their tax deductible donation and a coupon that can be used for a discount on their next purchase!
Mr. Tillman put together a flier that can be distributed for the next few months. This program will be a huge benefit and support to the students we serve.
Thank you to Play It Again Sports and in advance anyone willing to support this great opportunity for AK Child & Family.
&nbsp
Printable coupon in PDF format. Valid through April 30, 2014.
---
Mitzvah Mall
By Angela Rush, Director of Donor Development
November 19, 2013
Sunday, November 24, 2013 ∙ 12:00 - 3:00 PM
Please join us at the Annual "Mitzvah Mall", hosted by the Congregation Beth Shalom. This event follows in the truest spirit of the season, the spirit of giving. You will be able to choose from a varied list of local Alaskan non-profit organizations and make a donation of your choosing in the name of someone on your gift list. 100% of your donation will go to the agency you select and gifts to choose from will range in price and type, but all will be gifts that last throughout the year for the receivers. So please, mark the date on your calendar and come be a part of this very special event during this most celebrated of holidays.
&nbsp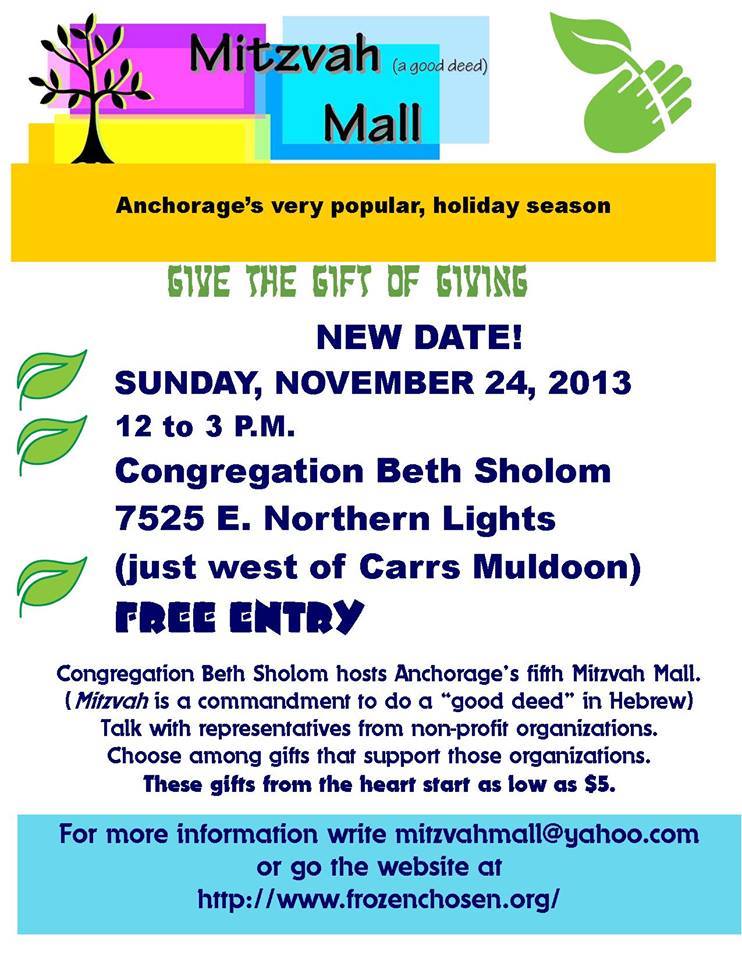 ---
The Value of Psychodrama
By Tequila Bester, Treatment Program Supervisor, Maplewood 2 and 3
November 13, 2013
In high school, I watched the drama club perform Lorraine Hansberry's A Raisin in the Sun. This play was one of many productions they performed that year. However, A Raisin in the Sun was the play that most stood out for me. I remember walking away from the performance thinking that my fellow classmates did a wonderful job. I felt uplifted and energetic; I thought I was part of something great—just by having witnessed the performance. To this day, the same emotions bubble up through me as I think about the drama club's performance. When I am old, and my mind is not quite as sharp, I am sure I will always bring forth the emotional and physiological response associated with the memory of this play being performed.
On November 1st, the Maplewood Campus participated in a Halloween themed psychodrama. Psychodrama, according to Sarah Gibbs, is "a method of group psychotherapy in which a person enacts the problems and relevant events in [his or her] life, instead of just talking about them." With props and a little bit of make-up, glitter, synthetic fabric, lots of sugar, and spirit, the girls on the Maplewood Campus were able to address issues surrounding creativity, phobias, self-esteem, social skills and relationship building. They had an opportunity to see staff temporarily step out of their every day roles and act, laugh, joke, and just be plain silly. More importantly, the students got to shine and learn what it is like to be a normal and healthy kid—no one putting them down, no drugs and alcohol, no abuse, no one to say or imply that they were not good enough. Instead, they got humor, words of encouragement, support, praise, and validation. The Maplewood girls spent a couple of wonderful hours collecting tools for their life box. Hopefully, they will be able to pull out these implements as they progress through treatment and through life.
Initially, the staff was leery of participating in the psychodrama. How were they going to supervise the kids? Over twenty kids and staff in one house would make supervision a logistical nightmare. Were we really going to give the kids a bunch of sugar and expect them to follow directions? More importantly, staff wondered how this event would be therapeutic for the kids. They worried that they would inadvertently re-traumatize the students. Yet, once these concerns were addressed, I witnessed what can best be described as "awesomeness." Staff could be overheard planning their costumes and discussing their characters. On the day of the event, staff acted as fashion consultants, make-up artists, personal shoppers, and self-esteem boosters. I heard staff telling the girls, "you are beautiful, with or without the make-up," and "just do your best. Everyone is here to have fun." While they knew their job was to help the kids, they seemed to suddenly remember that humor can be just as therapeutic as treatment assignments, individual therapy, or family therapy—maybe, even more so. As the Southern phrase goes, "staff showed up and showed out."
When I am old, and my mind is not quite as sharp, I will always remember the night Maplewood Campus participated in its first psychodrama event. I felt uplifted, energetic, and proud. The girls allowed their very beautiful souls to shine through. For a brief period of time, I saw young women unhindered by trauma; I saw kids being and acting like kids—not little world-weary adults. For a brief period of time, staff, who are often emotionally stressed, were smiling and acting silly; I saw them genuinely having fun. Overall, I think that night was a beautiful thing for everyone involved.
&nbsp
---
&nbsp
Raising the Flag
By Andy Hasenstaub, Maintenance Supervisor
November 11, 2013
Months ago, heavy winds broke our flag pole line. Although we wanted to replace it as soon as we could, we waited until we had a need for a boom truck to consolidate our expenses. Needing to repair a parking lot light, we had our lighting contractor install the new cable on the pole. Having once again raised the Stars and Stripes and the Alaska flag on campus, Mike Kaufmann with our maintenance team raised the Union Jack to recognize the heritage of our Chief Administrative Officer, Rob Morris.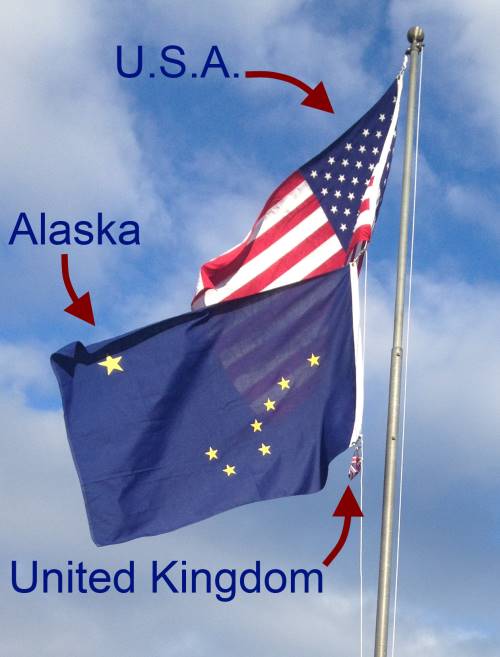 Our trio of flags
---
Spirit Week
by Rachel Coulter, Human Resources Development Manager
November 6, 2013
This past week, I had the pleasure of initiating our first agency wide Spirit Week. In a smaller capacity, I had participated in Spirit Week as a Case Manager with our Community Programs department in previous years. This year, as Human Resources Development Manager, I wanted to bring Spirit Week to the whole agency.
Spirit Week is an opportunity for us all to come together, dressing in uniquely themed costumes, and bonding on a more personal level that enhances our working relationships. Spirit Week also allows our staff to showcase their creativity and humorous sides, highlighting why they are so exceptional at what they do every day in their work with the youth and families that we serve.
This week we:
∙Showed off our best vacation attire on "Hawaiian Day"
∙Glammed it up on "Hollywood Glamour Day"
∙Chopped some wood on "Lumberjack Day"
∙Showed our spooky side on "Halloween Costume Day" and
∙Revealed our snuggly side on "Pajama Day"
We've posted some photos on our Facebook page in case you are interested.
It's also not just about the staff. We had youth trick or treating around campus on Halloween, some of our youth in residential painting pumpkins, and our youth at Community Programs participated in a pumpkin decorating contest.
I look forward to many Spirit Weeks in the years to come!
&nbsp
---
&nbsp
Enabling
by Shawn Stambaugh, Computer Support Specialist
November 4, 2013
Six years ago I arrived at AK Child & Family to start my first job in the IT field. At the time there was a message on the website from the CEO that spoke of working for a cause, whatever that cause may be. Each person has a cause or two that are important to them but many people feel they don't have the time, resources or skills necessary to contribute.
Fortunately, you don't have to have all the skills required to directly contribute to the cause. Like any business, a non-profit needs the people behind the scenes to turn the gears that allow those that are working in the trenches to be successful. By working in one of these unseen roles you can continue your own professional development while enabling those front-line people to directly work towards the causes.
I've found that one benefit of working at AK Child & Family is the sense of satisfaction that your work is more meaningful than just making money for a company. By doing the work that I enjoy I'm enabling my coworkers to provide treatment for kids in our care. It's a win-win!
&nbsp
---
&nbsp
The Power of Banana Bread
by Brad Kowalczyk, Psychiatric Treatment Counselor
October 30, 2013
I miss my family and am so excited to be moving to Colorado to be closer to them. But I'll miss working with the students of AK Child & Family. I've helped a lot of kids in my 8 years here. I've found that when working with kids that have been neglected that a little TLC goes a long way. There's lots of ways we can care for one another. It's good to remember that and to do something about it.
One of the things I've done a lot in my time here is feed kids. I'm not talking PB&J. I'm talking about the kind of food that feeds the soul as well as the body. Like starting a kid's day off right with a good, warm breakfast made with lots of care. I've watched kid's moods change before my eyes when presented with things like crepes or omelets or waffles. I've seen kids feel special when I've made coconut shrimp because I know a lot of our kids haven't been able to eat those kinds of things before. I've always wanted to make sure our students know that they're cared about and cooking good meals for them that they like is one of the ways I've done that.
The other day a kid in the cottage next door was getting ready to go AFT (away from treatment). I asked him if he was hungry and told him that I had just made some banana bread and it was still warm. I asked him if he'd like some. He didn't say anything and left the property and headed down the road. I felt bad - he had nowhere to go – he's from out of town and has nobody around to care for him. Luckily he came back a short while later and I asked him again – "hey are you hungry? I've still got some of that banana bread." He said he was sorry for ignoring me earlier and that he would like some bread. I went inside and got it for him and heated it up. He took it and I saw him gobbling it down real quick. I think he liked it.
I take a lot of kids to their medical appointments. It was really neat when the dentist office we use gave me a going away card last week wishing me well. I didn't expect it at all. I was just making sure we have a good relationship with them so that our kids get good care. It's nice when people notice us doing a good job.
It's been a fine 8 years at AK Child & Family for me working to make kids' lives better. I'll miss it - but I'm ready for this next adventure in my life. I hope people keep remembering that it's the little things we can do for one another that can mean so much and that kids keep getting better.
&nbsp
---
&nbsp
Faith in Action - Shared Ministries
by Kelli Williams, Director of Spiritual Life
October 23, 2013
Suppose there are brothers or sisters who need clothes and don't have enough to eat. What good is there in your saying to them, "God bless you! Keep warm and eat well!" – if you don't give them the necessities of life? So it is with faith: if it is alone and includes no actions, then it is dead. James 2:15-17
There are so many people who are so good to AK Child & Family in so many ways. We could not do the work we do without the faithful support we receive from a multitude of sources. For example, our Spiritual Life Department and program exists solely through church and private donations.
Sometimes, save for those who are on the front line helping to solicit donation efforts, we can almost become casual and nonchalant about those donations of spirit, service, items of need or cash. After all that's what people do for non-profits, right? Yet, there comes those times where some individual or entity rises above what might be "expected" and offers something of such generosity that it cannot be taken for granted and must be acknowledged for the incredible example of faith that it represents.
A major local supporter of our mission is Shiloh Missionary Baptist Church here in Anchorage. This summer, they hosted the 62 person American Baptist mission team from Kansas and Colorado that built our new Maplewood Campus gazebo chapel. And this fall, they are sharing another amazing gift with our Maplewood students. The gift of learning.
A majority of our students have struggles with school. Often, there have been so many other issues in their young lives to deal with that school can take a back seat. Many of our students could absolutely benefit from tutoring.
One of our staff members is also a member of Shiloh. She suggested we check out the possibility of our girls attending their after school tutoring program. This has been an incredible blessing and a match made in heaven! One of our students has already improved 2 grade levels in some of her skills and all of our girls are benefiting immensely. Their confidence, self-esteem and overall attitude toward school has soared. They also are being blessed through the caring attention they are receiving through this ministry.
Shiloh has graciously taken our girls into their tutoring program, waving the $40 per month fee for once a week tutoring. Impressed and inspired by the huge gains our students were making, one of the members of Shiloh asked why our students were only attending the program once a week. When told that was what the current funding permitted, he took out his checkbook and wrote a check that will allow our Maplewood girls to attend tutoring five days a week for the entire school year!
Thanks be to God when young lives are blessed through shared ministries and faith put into action.
&nbsp
---
&nbsp
Preparing for Onset of Winter
by Rob Morris, Chief Administrative Offier
October 18, 2013
Here at AK Child & Family we've been preparing for the onset of winter. As the days grow shorter and temperatures begin to drop we want to be sure everything is in place for the kind of situations that would stretch our resources. Making sure we have adequate resources on hand to feed and support 50 plus residential students in the event of an emergency is no easy task, especially when so many of them are teenagers with voracious appetites! For instance just this past month we started replacing our ready-to-eat-meals (MREs) in all the units.
Our maintenance department has been busy switching out tires to studded varieties for extra safety as well as testing generators, replacing batteries in smoke detectors, and checking emergency lighting and replacing fixtures that weren't quite as necessary when we had 20 hours of daylight. To help staff should the need arise we're replacing all the instructions on using emergency equipment with easy to follow, photographic step-by-step instructions & guides.
Our students are also getting involved. They participate in drills each month and have been participating in a poster competition to help draw attention to the importance of appropriate winter footwear, affectionately known as our Yak-trax awareness campaign. Suffice it to say we've all been busy ensuring that we're as prepared as possible for any emergency event that could come our way. Hopefully we won't need to rely on these measures, but just in case we aim to be ready.&nbsp
---
&nbsp
Birchwood Camp
by Kelli Williams, Spiritual Life Director
October 14, 2013
In 1999, when I was new to the agency, I had lots of fun brainstorming ways to bring blessing to the students we serve (and I still do)! Knowing what a life-changing experience camp can be for many young people, I worked to find a way for our students to have a similar encounter with God. Our students require a level of care that doesn't allow for overnight excursions. But that doesn't stop us from spending time at Birchwood Camp in Chugiak twice a year! In a short 6 hours, we pack in what feels like a week's worth of transformation. Praying and singing by the fire, going on a scavenger hunt hike around the lake, playing cooperative games, making crafts and s'mores creates Holy time that is so different than anything we can provide on campus. A day's worth of worship in God's creation is the healing balm that time and time again has shifted many students to a new therapeutic level. After our last visit to camp a couple of weeks ago, we were debriefing the students' experiences in a staff meeting. We were told of a boy who had never had a better-than-average day since he had been with us. We were then told that the day after he attended our Spiritual Life Retreat at camp that he had "an absolutely perfect day." After every retreat at camp we've had, I too get that feeling that is has been "the perfect day."
&nbsp
---
&nbsp
Working as a Psychiatric Treatment Counselor at AK Child & Family
by Rachel Coulter, Human Resources Development Manager
October 10, 2013
I begin writing this blog by thinking about how I started working within the field and, concurrently, working within this agency. I began working as a Psychiatric Treatment Counselor or PTC, in one of our residential treatment cottages. What makes this position really meaningful goes beyond the basic duties of the position (i.e. supporting youth on moving through their daily schedule including hygiene, chores, meal times, school times, homework, etc.). It was rewarding to work as a PTC because of the relationships that I formed with staff and students, being able to assist youth in working through their triggers such as trauma, emotional, etc., and being able to observe the progress over time that the youth in our program made. My experience as a PTC was invaluable and helped to shape me into the person that I am today.
In writing this blog, I feel that it is important to bring in the voices of staff who are currently working as PTCs within our agency. I asked two questions and below have listed some of the answers I received.
1. What do you love/like most about being a PTC?
-"I love that I can show students here there are people who respect and care about them as a person", and "that I can help provide some consistency, support, structure, and encouragement to the students."
-"The diversity in which we confront attitudes, behaviors, and tantrums to model the right approach and sensitivity to nurture young minds and give them new tools to assist them in excelling in their own environments."
-"The ability to watch kids progress in their treatment and become more successful young adults. There is nothing better than watching kids overcome hurdles and make a positive change towards being a "better" person."
2. What inspires you to come to work every day?
-Being able to "see the kids grow and help encourage them to be their best."
-"I have an amazing group of coworkers who make showing up fun and positive! I know that even if the students may not be in the best of moods, the people that I work with will support me and that my shift will be a good one."
Another PTC provided a quote that inspires him, "You can't start a new beginning but you can start today and make a new ending."
&nbsp
---
&nbsp
You Picked. You Clicked. You Gave. WE THANK YOU!
by Angela Rush, Director of Donor Development
October 7, 2013
Students, staff, our Board of Directors and supporters of AK Child & Family, wanted to express our deepest gratitude to all of the generous donors who gave some portion of their Permanent Fund Dividend to our agency via the Pick. Click. Give. campaign.
These greathearted gifts all go to fill a void in our program and mean so very much to the children and families we serve. These are children who are our neighbors, our community members, our children's schoolmates, youth group members and more.
In thanking all of our benefactors who came to us through Pick. Click. Give., we thought it especially important to let all of you know some of the very important ways in which you have supported our mission.
These funds are used for items that we do not collect fees for, such as birthday celebrations, clothing, bedding and personal care products. We purchase items for recreation like bicycles, footballs, basketballs, Frisbees, croquet sets and skates. Items of comfort such as blankets, books and journals also come from your Pick. Click. Give. donations. They facilitate special recreational outings off campus, such as trips to the museum, movies, bowling, plays, concerts, swimming or one on one outings in the community to practice positive social interactions. All of these are opportunities that our kids would not otherwise have.
As Fall arrives, many of our youth will need outdoor wear to stay warm as they have outgrown their clothing from last year. Some will not have arrived with winter wear, while others may be in a time of transition and not have items of comfort with them such as a cozy blanket or even a stuffed animal.
It's the little things we may take for granted that are so special to these children in our care and will provide comfort as they begin their treatment and are away from family and friends.
Your generosity in choosing to Pick. Click. Give. will ensure that those in our care are provided the necessities to be comfortable and given the opportunity for success, both in our program and beyond.
We hope you will continue to remember and support AK Child & Family in our endeavors next year as you are filling out your Permanent Fund Dividend application and choosing where your charitable gifts will be directed.
&nbsp
---
&nbsp
Young Artists Featured at First Friday
by Anne Dennis-Choi, Chief Clinical Officer
October 3, 2013
Anyone who has ever attended a First Friday event in Anchorage would probably agree that there's a lot to see and do. It's a fun way to explore local businesses, enjoy art, engage in music festivities, shop and hang out with friends. This month there's an additional reason to attend First Friday!
The girls from the Maplewood campus have started a new sustainable business adventure in collaboration with a downtown boutique who has offered to feature their handmade jewelry. Friday, October 4th, 4 to 8 pm, you're invited to stop by Mabel McKinley Boutique, at 423 G Street, to see the beautiful earrings and bracelets that the Maplewood girls have crafted. The earrings are priced at $5 per pair and the bracelets are available for $10. This is a great opportunity to support aspiring young artists and get some of your gift shopping done all at the same time. (Proceeds from the sale of the handmade earrings and bracelets will be used to purchase art supplies for the Maplewood girls.)
We are very proud of the girls from the Maplewood campus who've participated in the weekly young artists craft group and think they've created beautiful jewelry. A special thanks also to our staff Danielle Giroux and Casey Kerr who've helped teach and inspire the girls. And of course, thank you also to Mabel McKinley Boutique and Samantha Bacon (former student intern) who have encouraged the girls in this exciting artistic adventure.
Sample pictures of the jewelry are available in our Photo Gallery.
&nbsp
---
&nbsp
The Road to Find Out
by Denis McCarville, President & CEO
September 30, 2013
I got a chance to drive the Alaska Highway this past week. While I am somewhat used to long distance adventures I am not sure I would recommend doing it the way I did. (Although, I have talked to a lot of Alaskans who have done it as fast, if not faster.) When riding my bike a long distance I am constantly reminding myself, and others who want to know, that it is not a race. On the other hand this trip was quickly conceived and before I knew it I was planning to make a thirty six hundred mile trip (3,654.08 to be exact) in five days.
There were sights that were breathtakingly beautiful. The trip deserves to be two or three week trip with many stops along the way. We Alaskans are blessed to live in the most beautiful land in the world and now I know it doesn't end at the border between Alaska and Canada it goes on for days. Between the sun rises and sun sets were many imagined adventures with trails leading around that next corner out of sight but just begging someone like me to explore around the next. That will have to wait since the days were 24 hours short and driving hours were long, very long.
We saw some wildlife close and personal. Why do bison and big horn sheep always seem to prefer to stand in the middle of the road? I won't get into listing the number and types of animals but my wife did keep a journal, if you are interested.
As for the trip itself, we started at 5:30 in the morning from Anchorage. We saw more cars on the highway to Palmer than we saw for the next 2000 miles. It was snowing in the mountain passes before we left Alaska but that was the extent of the snow; so the snow we had here in Anchorage the other day was not the first snow for the year for me. I did have to stop the car for a short bit to try to pick a snowball fight with my wife. She didn't find it funny. But it was the first snow of the year for me and that is just what you do.
That first day was getting long when the back of the car started feeling funny. You guessed it; I got a flat. The good news is we were only 100 km from Whitehorse; the bad news is I had to slow down to 50 mph for the last hundred kilometers into Whitehorse (80 kph sounds better but it is still slow) . When we arrive, we learned that we had traveled through a time zone so we were even an hour later for dinner. The good news is I was able to talk the restaurant staff into cooking two more dinners that night. So after 14 hours of driving we were a fifth of the way there.
I can say that the next four days were long. the longest was the day we spent 15 hours in the car the shortest was a 13 hour day. There were times that we just had to stop to take pictures, or just stand there and be amazed at the sights. I must admit I did stand gazing a little long at times to give my backside a rest. Much of the time was spent listening to music and clicking pictures of the hood of the car as we zoomed by another picture worthy sight.
As anyone who has taken a trip like this with a spouse, family member or close friend knows there are two emotions that come out: frustration and anger or laughter and goofiness. I was fortunate there was much more laughter than frustration. As for the flat tire – before we left Anchorage, my wife suggested we replace it. She didn't mention it again and when I thanked her for not bringing it up, she said she didn't remember making that suggestion. I am indeed fortunate.
&nbsp
---
&nbsp
Answered Prayers
by Kelli Williams, Director of Spiritual Life
September 26, 2013
.…pray for each other so that you may be healed. The earnest prayer of a good person has great power and a wonderful effect. James 5:16.
We have an e-mail prayer chain that goes out to hundreds of people every week. It's full of prayers from our students. Some are hilarious…others are heart-breaking. I've been told it's one of the most intimate ways people connect to our students and our ministry and mission. Recently, we all had been praying for Tyler*. His prayers were angst-filled. He was feeling as if "nobody hears my prayers and I'm feeling like there is no God and it's all made up…I just don't care anymore." For weeks he struggled with his faith, and for weeks we lifted him up in prayer. I got many responses from prayer chain participants sending encouragement and testimonies to their own times of struggle and doubt. Our prayer chain lists our student's celebrations and concerns.
And sometimes we get to list their answered prayers as well….from the young man who was doubting and feeling as if God was not hearing or answering his prayers, "I found my answer…when I was cleaning my room, I found a heart medallion inside my heater vent that says 'Jesus Loves Me.'" In that moment, there was a palpable feeling of peace in the room as Tyler shared his answered prayer. It was a powerful yet tender moment. And now his faith is solid again and is providing him with a great source of strength as he works to heal here in treatment at AK Child & Family.
If you'd like to be a part of our prayer chain use the Contact Us page.
* Not his real name
&nbsp
---
&nbsp
Family After All
by Stephanie Miller, Director of Communications
The other day I had the honor of having lunch with Jackie Pels who wrote the second volume of FAMILY AFTER ALL, a history of the Jesse Lee Home. I met Jackie when she contacted me about utilizing our archives when she was doing research for the book. We have records and photos and writings but Jackie's book has people.
I asked, "What inspired you to write the book?"
"I have to say, I was born in Seward. We left when I was a toddler. We went back and I had my 10th and 11th birthdays there and I did not know that Jesse Lee existed."
She was working on a book called ANY TONAGE, ANY OCEAN about a man in Ninilchik and someone put her onto his good friend, Fred Lange in Cordova. In talking about Walter's story, Fred just happened to mention he'd grown up at the Jesse Lee Home. That kind niggled at her.
Then one day in conversation, her cousin, Anne said something about the Jesse Lee home. Until then she hadn't known Anne grew up at the Home. Jackie was taken by how different Fred's and Anne's lives were. They were from completely different backgrounds, from two completely different parts of Alaska and had grown up to be two completely different people.
Then she discovered that a man she knew who was born in Unga, where Jackie's mother was born, had grown up at the Jesse Lee Home. That's when she decided "Somebody has to do something about this."
"I wrote to booksellers I knew. I wrote to all the librarians I knew and said, 'Has not somebody done a history of the Jesse Lee Home?'
And they all said, 'No. and we're so glad you're going to.'"
One of the people she wrote to was Ray Hudson who had been a teacher for 25 in Unalaska where the Jesse Lee Home started. Her idea for the book, having met three people, was that it would be five or six interviews, a little book that would give the underpinning of the institution but would be about the people.
Ray wrote back, "No, it hasn't been done. I'm so glad you're going to. And here's a list of materials I have about the Home in Unalaska."
Jackie says, "I edit because I can't help it. I write if somebody makes me." So she wrote back to Ray suggesting he write the book and she would edit it. He agreed but he knew as little about Seward as she did about Unalaska so they decided to write the book together with Ray writing the first half about Unalaska and Jackie writing the second half about Seward.
They started writing and sending chapters to one another and it wasn't long before they realized it would be more than one book. With many more people available to personally interview from the Seward years, Jackie's book swelled to 800 pages.
"When I first started interviewing people, I said, 'We hope to have a book by Christmas.' And so we did...five years later."
Just as the young people in our care inspire our daily work, it is the young people, now 80, 90, even 100 years old, that inspired the writing of FAMILY AFTER ALL.
&nbsp
---
&nbsp
2013 Cuts for Kids!
by Angela Rush, Director of Donor Development
Last Spring Paula Withrow, owner of Hi Rollers hair salon, mentioned that her salon and WineStyles would be holding their second anniversary block party in the O'Malley Plaza in September, and that she was seeking a charity to benefit from the Cuts for Kids event. I told Paula I knew of a great charity working with children and families that just happened to be very near and dear to my heart: AK Child & Family. From that point on, Paula and Kristen Laub, also with Hi Rollers Salon, began collaborating with WineStyles to create a fun event to benefit AK Child & Family. The proceeds would go towards the new playground and multi-use rink currently under construction at our Jesse Lee Campus.
The Cuts for Kids event included haircuts, face painting, door prizes, wine tasting, crafts, great food, magic tricks and music by KFAT 92.9. Most all of the food and raffle prizes were donated by local businesses. Our CEO, Denis McCarville, was first in line to get his hair trimmed, and many other employees stopped by to see what WineStyles had to offer.
When Maritzas Barbershop heard of the event, they sent their barbers and many customers to Hi Rollers to help with the high volume of haircuts and styles. The barbers and stylists created unique hair styles and colors, and made sure everyone who received one of their cuts looked fantastic.
We are very grateful for the time and energy donated by everyone involved in organizing and running Cuts for Kids, and for everyone who stopped by and helped make the event such a huge success. Thank you to all of the individuals and businesses who donated food, beverages and raffle items. We know next year will be even better.
&nbsp
---
&nbsp
Keeping in Touch
by Katy Smith, Admissions Coordinator
Last week a former student came back to our residential campus to visit with me. I have followed the progress of this young man, he making contact here and there while struggling in the community, staying connected, asking for help, working hard using the tools he had learned while in treatment. I have been privileged enough to see him and his parents through some of the most difficult challenges, and through successes that have at times been few and far between.
When he came to see me, he told me about his steady job in which he had risen to a managerial level, and he gleamed as he reported he had finished high school and was and hopeful to enter the military. He maintains a close relationship with his family. His life post-treatment has not been ideal, but he has been strong enough to overcome obstacles and endure disappointment. He has triumphed! I am honored that he allowed me to share the immense joy and celebration with him. I am honored that he allowed me to share in his life.
Every time I think of the students we admit in to treatment, I think of this young man. This was a student who completed treatment successfully; who continued to encounter the challenges of life and was able to use the tools he learned here to supersede them. Even more, he continued to reach out to us for encouragement when he needed, and we were able to be here for him to see him through. Truly this is what it means to have been a part of greatness.
Last week, when this young man left our residential campus, he told me he'd keep in touch. And I know he will.
&nbsp
---
&nbsp
JESSE LEE'S BACKYARD
by Denis McCarville, President & CEO
Even though Kelli Williams our Spiritual Life Director doesn't like to admit, the garden started with a comment from her. She and I were talking about a way that we could involve our students in a project to give back to the community. We both latched onto an idea to help our students start a garden where they could grow food for each of the cottages to eat as well as give some produce away to needy children.
The idea really started to take root (pun intended) when a group of garden-loving community volunteers started working with Kelli and me. The first community volunteer was our neighbor, Rick Fox. He has a tractor and is always ready to fire it up and move some dirt. He pulled together a group of people who really knew what they were doing which is a good thing because I don't have a green thumb; all of my plants are artificial. Before we knew it, we were gardening in the gym and training room at the Benson Center over the winter. Master Gardeners Dohnn Wood and Debbie Hinchey got us going with a design for an earth box made from a plastic tub and special soil mixes. Soon we had a mix of vegetables and flowers started.
The next task was to find a spot on the Jesse Lee Campus for the garden. Rick told our story to Landscape Architect Tania Krawchenko. She volunteered her time and skills and designed a beautiful sanctuary that provided not only a garden but also a sacred space. I am not sure Andy Hasenstaub, our Maintenance Supervisor was happy when I commandeered his mower shed as our new greenhouse and the area he piled snow as our garden. But Andy, being a roll-with-the-punches kind of guy, embraced the idea. That might be a bit of an overstatement but he went along with the idea.
Carlile Transportation Services pulled together an enthusiastic group of volunteers and we were on our way! Builder Sky Evans designed huge raised bed garden boxes and the volunteers got to work. They even ripped off the top of the shed to get the greenhouse started. I was still re-roofing it when the snow started flying but that is another story.
Quickly, the garden project got much bigger than Kelli and I could handle and we enlisted Alberta Gerlt-Nelson, Activity Therapist and avid gardener. Alberta had been working with our young people at Community Programs in gardening groups for some time. With Alberta's guidance, We actually had produce to pick that first year!
Although we had fences up, the gates would take more time to measure and order the proper sizes. Moose being moose didn't worry about the fence and we did share some of the produce last fall and early this Summer. Even so, Alberta's gardening wisdom was put to the test when a momma moose and two calves visited before we could install the gates. Some flowers around the vegetables were planted specifically to deter the moose and they turned their attention to the as yet uncultivated edges of the garden.
The gates have since been installed. We have some work to do before calling the garden complete including several more raised beds but we've learned a lot and gained an appreciation of fresh vegetables. The students who have participated in the Garden Project have grown in their skills and knowledge about feeding themselves and others. Since the garden is here to stay we have had to give it a name so we have officially name it Jesse Lee's Backyard. Come on out and see it. One special attraction is tallest sunflower plant I have ever seen!
&nbsp
---
&nbsp
YOU CAN PICK.CLICK.GIVE. THROUGH AUGUST 31ST
by Denis McCarville, President & CEO
I want to thank everyone who chose to contribute to Alaska Children's Services (now AK Child & Family) through PICK.CLICK.GIVE. this year!
Regardless of what you call us, by picking Alaska Children's Services for your PICK.CLICK.GIVE. contribution this year you have helped hundreds of Alaska's neediest children and families find the help to turn their lives around.
If you haven't designated AK Child & Family (Alaska Childrens Services on the PICK.CLICK.GIVE site), it is not too late!
To make a contribution, sign into your My Alaska account at http://www.pfd.alaska.gov/ and click on the green button on the right that says, "Add or Change Your Pick.Click.Give. Donation." You can make changes through Saturday, August 31.
Please remember, you'll find AK Child & Family under our former name, Alaska Childrens Services, on this year's PICK.CLICK.GIVE. list of charities. Your contribution lifts up young people and their families who struggle daily with the trauma that has weighed down their lives.
---
ONE OF THE BENEFITS OF WORKING AT AK CHILD & FAMILY
by Rob Morris, Chief Administrative Officer
At AK Child & Family we value lifelong learning and actively support employees' pursuit of educational endeavors. This fiscal year we have close to 12% of our workforce benefiting from either tuition support or student loan repayments. Whether seeking an associates degree in business or advanced degrees in clinical therapy or nursing, our employees value the financial support and flexible schedule afforded them at AK Child & Family. Some positions, particularly in our Community Programs division, are part-time and eligible for benefits. Such a position is great for someone who is looking for a degree of workplace flexibility to help balance a meaningful job with educational pursuits. Generally, our Activity Therapists work with youth after school and weekends providing additional support during holidays and as needed. Many college juniors and seniors get an early start to their careers as Activity Therapists. By the time they're looking for full time work after graduating, they've got some tremendous skills and experience under their belt. Take a look at our employment page to get an idea of the positions that are currently open.
---
IT'S THAT TIME AGAIN
Anne Dennis-Choi, Chief Clinical Officer
Summer is ending and a new school year is beginning. Schools in Wasilla and Palmer started on the 15th and the first day of school in Anchorage is today. The back to school frenzy can be fun with the stores having all kinds of Back to School displays and swarms of parents with their kids buying school supplies. Outside of the commercials and marketing, what does back to school really mean for kids? For some it means the anticipation of seeing their friends again, the excitement of buying a new outfit for the first day or getting to pick out cool new school supplies. For others, the first day of school may be feel daunting or overwhelming. There might be anxiety about starting a new school or transitioning to a new grade level, worries about not fitting in with peers, the pressure of getting good grades or the dread of once again having homework. Back to School evokes different reactions in different people.
It can be tough for kids, parents and families to get back into the groove of school once the days of summer are over. So what are some tips to help the new school year start off right? Kids often take comfort in daily routines. Allow adequate time in the morning for getting out the door on time. Organize backpacks, lunches and other things the night before if possible. Encourage kids to eat a healthy breakfast. Try not to over schedule after school activities and allow enough time for homework. Bedtime rituals are important especially for younger kids. Reading a bedtime story to wind down helps some kids. Getting enough rest is important for all ages, sometimes rest and renewal is underrated. For kids that are starting a new school, if possible visit the school, even if it's just a drive by in the car. All kids, no matter their age, need people that are available to listen, really listen, to their triumphs and struggles as the year unfolds.
Hoping that this school year brings a fresh start and a year of new possibilities for the kids and families we serve as well as those throughout the local community.
---
CAN WE PLAY YET?
by Angela Rush, Director of Donor Development
I just got back from taking a walk around the new outdoor recreation site currently under construction here on the Jesse Lee Campus. The weather has been ideal this summer for our construction teams as they have made considerable progress in building a new playground and mulit-use rink for our young people and their families.
The project began in July with volunteers from Colorado and Kansas disassembling the old playground equipment. Already, in just three short weeks the ground has been prepped, the equipment delivered and assembly has begun.
As we anxiously look forward to seeing the new playground in use, we continue to appreciate that this project would not be this far along without the generous support from the Rasmuson Foundation and many other individual and corporate donors. For this our youth and youth for the generations to come will be forever grateful.
---
SACRED SPACE
by Kelli Williams, Director of Spiritual Life
Where two or three have come together in my name, I am there among them. Matthew 18:20
For 13 years, it has been a goal of mine to create a space on our Maplewood Campus set aside for praise and prayer so that our students and staff can more effectively renew, restore and heal. Hooray! Thanks be to God for answered prayers and for the transformations that occur when we come together to Serve! Sixty-two people on an American Baptist Home Mission Society Alaska Home Mission Action Team (HMAT) were here the first week in July and built an outdoor chapel on our Maplewood Campus. Thank you Prairie Baptist Church of Prairie Village, Kansas and Calvary Baptist Church of Denver, Colorado; you are blessed to be a blessing!
Our new chapel is a beautiful, much-needed sacred space for chapel, devotions, family visits and quiet reflection. Until now, these events took place in common areas (that are not always conducive to a prayerful atmosphere).
This amazing mission team also:
demolished our old playground and ice rink so new ones can be raised
built new planter boxes at our Jesse Lee Campus entrance
cleared our Jesse Lee campus hiking trails
tended to our chapel and prayer gardens
chopped and split wood for use in our sweatlodge
did preparations and work before, during and after our Alaska Flag Day event
worshipped with us in many ways
stole our hearts!

While we know that even heaven cannot contain our God, much less the walls of temples made with hands, the young people in our care at AK Child & Family often need tangible ways to experience God's love and grace. We give thanks for the many volunteers past, present and future who have tangibly served as God's hands and feet here at AK Child & Family.
Right now, you too are a part of creating Holy Ground for those at AK Child & Family who seek God's healing love and grace. By giving your time, attention and energy to these words, you are helping us to continue the work of our mission. Through God's grace and your prayers, Spiritual Life continues to provide refuge for wounded young lives. It takes a village. And what a wonderful village to which we belong.
---
WHAT WE LOOK FOR IN A POTENTIAL EMPLOYEE
by Rachel Coulter, Human Resources Development Manager
People often ask what we look for in a potential employee. First and foremost we look for minimum qualifications. We have licensing expectations from multiple governing bodies that we must adhere to. This is what determines our minimum qualifications.
We also look at goodness of fit with the agency as a whole. We want to bring in employees that work well within the parameters of our agency mission and brand.
When supervisors are making decisions to hire, they are also looking at goodness of fit within that specific team. Every team is unique with its strengths and challenges. An employee may fit very well within one team, but struggle within another.
At AK Child & Family, we are all about quality and we look forward to the new faces and ideas that they bring to the team.
---
FIRST POST
by Denis McCarville, President & CEO
Welcome to the first entry on the AK Child & Family Blog. If you follow us regularly, you will hear from a variety of voices telling the story of AK Child & Family – not a story about our past, but a story of who and what we are today and tomorrow. While occasionally you will hear stories about how things used to be, we are committed to keeping the reader up to date on what is important or interesting at the present moment.
As the President and CEO I plan to be a regular contributor but I am just one person with one perspective. In order to truly represent AK Child & Family there should be many voices so I have asked others to contribute as well. Of course, this blog is not limited to the voices I have invited because your voice is also important. Please come back often to see what is going on as well as contribute yourself. Your voice is important to us.
---