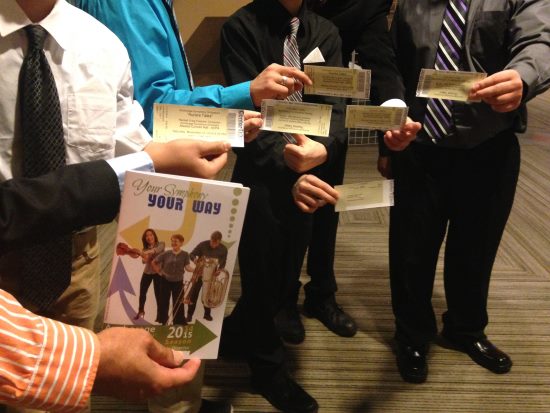 Last week, twenty lucky AK Child & Family students and staff had the privilege of attending Aurora Tales courtesy of the Anchorage Symphony Orchestra. "I continue to be amazed at the music that the Anchorage Symphony plays, but most of all, the positive response that it has on our students that come to listen," said Alvin, a staff who attended the symphony with boys from two cottages.
One symphony fan said, "It was wonderful and cool. I liked the northern lights and I like how Randall conducts." That boy could be seen conducting along with the music very discreetly at his seat. A young man who attended his second symphony said to me, "I found it to be very relaxing. I'm so glad I got the opportunity to go to such an amazing symphony."
Thank you, Alana and Sherri, for seeing to it that our new symphony fans had incredible seats and for making this whole new experience so welcoming for the young people in our care. I find it rather fantastic to walk into the cottages and to be asked, "How do I get to go to the symphony?" I love to hear about the different experiences and see faces light up when describing the symphony the day after. While these youth face many challenges while away from their loved ones, it's especially rewarding to see them having a positive experience in the community, and especially with their new friends at the Anchorage Symphony Orchestra.
Below is the blog we have come to expect after each symphony.
---
My third night at a symphony
I was excited when I heard I was going to a third symphony. I was ready to go about one and a half hours before we had to leave. I was happy when we finally got in the van and went to the Performing Arts center.
We sat down at our seats. Two people went down really close to the stage while, before intermission, I sat with 6 other people in the mezzanine. I was really happy when they thanked me for coming, when they shared the story about how I first got to go with everybody present. It was really tempting to say that I was the one who they named. However, I didn't. I felt extremely happy when they did call my name.
The movie and the songs were awesome! I liked the story, and the music was sounding really good. It was a really great night for me. I was happy I was there and had a really good time. At intermission, we had our pictures taken and took a break from sitting down. After intermission, I sat really close to the stage. I thought it was cool, being up close and able to see the musician's movements better. I liked it.
I really enjoyed this third opportunity to go. We had cards we were going to give ASO but we left them at the cottage. I hope to hand deliver them soon. I appreciate all this and the fact that my peers got to go with me.
And now more of my friends and peers want to go to the symphony.
Thank you,
-A really grateful kid from Gaylor cottage