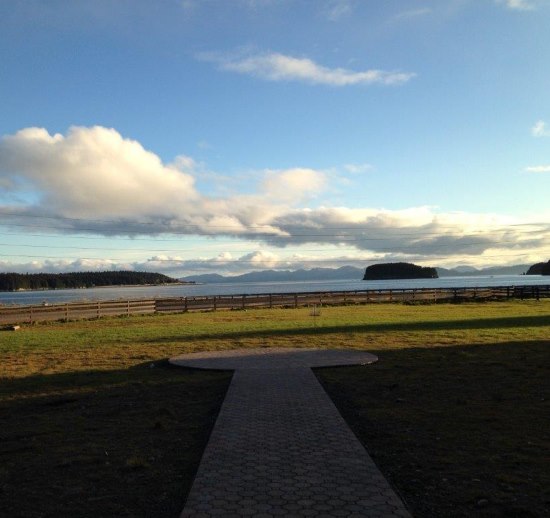 I had the opportunity to fly to Kodiak last week to spend Thursday and Friday attending the Fall Meeting of the American Baptist Churches of Alaska. You most likely know that the American Baptist Church is one of the founding organizations of AK Child & Family and remains a strong supporter of ours to this day. They meet twice a year in person at one of their member churches or institutions. This year we met at the Kodiak Baptist Mission, an organization that provides preschool and afterschool care for youth in and around Kodiak and week long summer camps for youth of the area as well.
While the subject matter in meetings like this is always important, I wouldn't be truthful if I were to tell you that the interaction before and after the real meeting draws me to attend at least as much as the meeting itself. This meeting was no exception.
After the meetings were over on Thursday evening, I had an older gentleman approach me to inquire about the services provided by our agency. The more I talked the more he seemed interested in what we do and how we do it. I talked to him about the complex trauma that many of our children live through before they reach our doors. I told him that the behavior we see most often stems from their maladaptive attempts of dealing with that trauma and the stress in their lives.
After a while the conversation turned toward his childhood and I wasn't surprised to hear of his story of abandonment, being raised by a loving grandmother and an abusive grandfather. He talked about the alcoholism that his parents and grandfather suffered from, the domestic violence that he lived with during his years with his grandparents, the regular beating that he endured and how unfair he felt treated since his cousin, who lived with his grandparents too, was never beaten. He also spoke of the mixed feelings he had as a teenager when his grandfather suddenly died in a violent accident. He felt glad that his grandfather could no longer beat his grandmother and that he had endured his last beating at the hands of his grandfather and yet, very guilty for feeling that way.
By this time in the conversation I already knew that he had lived a long successful life, was married for many years (to the "same loving woman," he would add,) with children who have grown up and were leading successful lives by his account. I asked him how he went through all of that as a child and survive? He said, after a few minutes of contemplation, he thought it had to do with having a grandmother that loved him, even though she could not protect him, and that she believed in him. He had a shop teacher in high school who believed in him; later on, people in the military that believed in him and that he always had an idea that he had the skills to make a difference in other people's lives.
That got me thinking, how much of what we do here at AK Child & Family is helping the young people we work with know that they really matter, that they are believed in, that they can make a difference in this world and that they have the skill to make a difference in other people's lives. We both agreed that night that if we were only able to instill those beliefs in the young people we treat we would be going a long way in helping the youth we treat lead happy successful lives. Kodiak is beautiful this time of year, but that evening while sipping my club soda, and he his Diet Coke, that conversation was worth the trip for me.