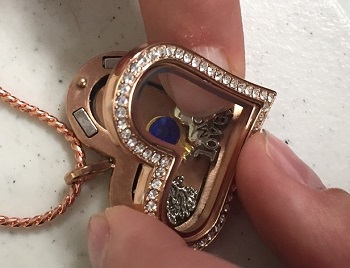 Origami Owl is a custom Jewelry company created by Bella Weems. They have lockets that are clear and you can add little charms to tell a personal story. As a group activity, the boys in Gaylor Cottage made very special and unique lockets for their mother or mother figures for Mother's Day.
Each boy chose 12 different charms to put inside a locket selecting birthstones, flowers, hearts and different words for a gift that would certainly be cherished by their loved one.

The boys took their time to make sure the lockets were just as perfect as could be and handled with great care.

When the lockets were finished, they were each gently placed in little gift boxes to be presented on a special day honoring mothers.


The boys thanked staff for the opportunity to make a personalized gift for their mom to cherish and here are a few quotes from the boys about the gift making activity:
"My mom really liked all the different charms inside."
"My mom said, "Thank you sweetie. It's beautiful."
"I gave it to my grandma and she said she loved it."
"My mom said it was beautiful and anything I make is very special."