2016 Blog Entries
Spring Talent Show
Lauren Curran, Communication Coordinator on 03/31/2016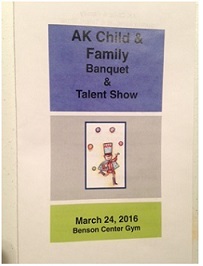 I had the amazing opportunity to attend our Spring Student Talent Show last Thursday, organized by the Spiritual Life department. Just as I expected, I did not leave disappointed! A bi-annual event, the Student Talent Show is a chance for our youth to showcase their skills, hobbies, interests, etc. and express themselves creatively in front of a supportive audience.
A delicious lasagna dinner was served before the show during which time students were able to mingle with each other as well as the many guests in attendance. It was fun to watch these interactions and experience the general excitement of students. It reminded me of talent shows I was a part of growing up and brought back many memories of anticipation, excitement and nervousness…


About twenty students performed in all and I was particularly impressed by the variety of talent. Many students sang popular songs. Others danced, showcased beat mixes they had created, told riddles and even performed gymnastics! While I was impressed by the raw talent of these kids, I was moved even more by the support and encouragement they demonstrated toward each other. Performing in itself is stressful, but that stress increases tenfold when you are performing in front of peers, family members, friends and staff.
Performing students would occasionally get off-beat, or miss their cue to start singing. In these moments, students in the audience would immediately start singing in unison to get the performer back on track, clap to the beat or yell out encouraging sentiments. Guests in the audience would quickly join in and guide the performer when necessary. This was, in my opinion, the true student "talent "of the night—unwavering positivity and kindness to others.


In addition to overwhelming applause and cheering from the audience, each student received a single yellow rose after their performance. Self confidence and creative expression were abundantly displayed over the course of this special evening. It was an uplifting and inspiring experience and I can't wait for the next one!


Kevin Cassity poses with an acoustic guitar he donated, which was played by one of the performing students!
---