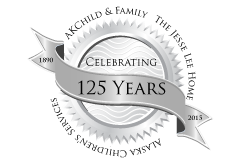 "The Lake has frozen over again," wrote Clara Cook on March 14, 1914, "and the wind is blowing awful hard." But from her window she could see the boys had made themselves sails and were flying across the ice on skates. "The children all love the wind," she wrote, "and we have lots of snow now."
Children arrived at the Methodist Jess Lee Home under traumatic circumstances. Often one or both of their parents had died or the family was destitute from illness or misfortune. To greater or lesser extents, the children must have been bewildered, they were frightened and alone. Then, with the resiliency of youth they adapted; they built themselves sails. They flew across the icy lake … (From Volume 1 of Family After All)
The two volumes of the book Family After All is the history of the Jesse Lee Home from 1890 to the 1965 when the home moved to Anchorage and the name was eventually changed to AK Child & Family. This passage from the first volume could have been written by any one of us working at AK Child & Family today. We are no longer the orphanage that we were back then but the young people we serve today have all experienced traumatic circumstances through no fault of their own.
Science has advanced since that day back in 1914 when Clara Cook wrote this entry in her diary; we know that what they were doing back then were the building blocks of the resiliency that she writes about. We now know that it is the very belief in these children that she and the other staff had back in those days, the support they receive from the people caring for them and the value they instilled in the youth that they played an important role in helping the other children in the home that built that resiliency. These components are the interventions necessary for all children to develop the strength that is needed for them to overcome the adversities of life. It was true in 1890 when the Jesse Lee Home was started and it is true today.
AK Child & Family is celebrating our 125th year of serving Alaska's most troubled children and families. 2015 is our quasquicentennial year. Since it is a big one we will be celebrating all year. Keep checking our web page to find out some of the fun things that we have planned for this year of celebrating the thousands of children and families that have had a chance of a better life from the thousands of staff and volunteers that have worked to make sure that these wishes come true.