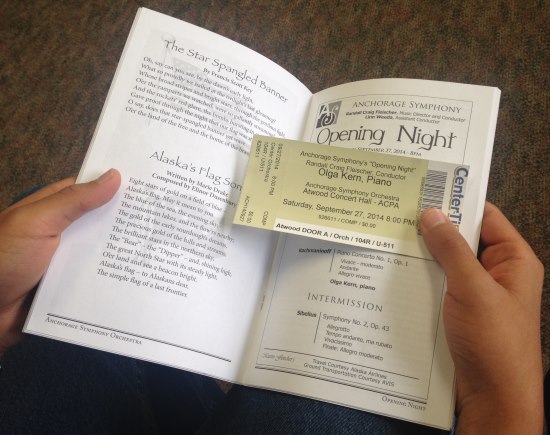 I am a twelve-year old boy in Gaylor cottage at the Jesse Lee campus. I and another staff were given a ticket to go to the Anchorage Symphony's open night, on September 27. I was pretty happy at that Zac, the staff that was going with me, said he would pick me up at 6:45. He arrived just in time.
Zac had brought a set of dress clothes he said were donated. I put them on and then we were off. Zac let me hold the instructions, and in about twenty minutes, we were at the Performing Arts Center.
After walking a little, we entered the building and got in line for a ticket. We received them and also got a booklet about what's going on. We made our way upstairs to Atwood door A. We entered the auditorium and asked the usher where we would be sitting. It turns out, we were just given a seat at random. That seat was fine, and, during intermission (much later), we found out that. We figured out the place where we would've been sitting, but Zac said where we were sitting was just fine.
After we got settled in, the music had started. Randall Craig Fleischer, the conductor, had said a few words, then they played the Star Spangled Banner and the Alaska's Flag Song.
The music got started after that. Here's how the schedule looked:

Tschaikovsky…………Marche Slave, Op. 31
Rachmaninoff…………Piano Concerto No. 1, Op. 1
Vivace – moderato
Andante
Allegro vivace
Olga Kern- piano
INTERMISSION
Sibelius…………………Symphony No. 2, Op. 43
Allegretto
Tempoandante, ma rubato
Vivacissimo
Finale: Allegro Moderato

The music was AWESOME! I really enjoyed it. I was really happy and appreciative for the tickets. That was a good experience! I've went to the Young People's concert, and I had a great time.
But this was different. I liked the music, and I really wish I could play the piano like the pianist (by the way, I play multiple instruments: the piano, a little harmonica and guitar, and a little recorder too). I was tired when it was over, but it was worth staying up late! I hope to have another opportunity to go again and thanks to the Anchorage symphony.
Thank you for the generous tickets.
A grateful, music liking young man at AK Child & Family