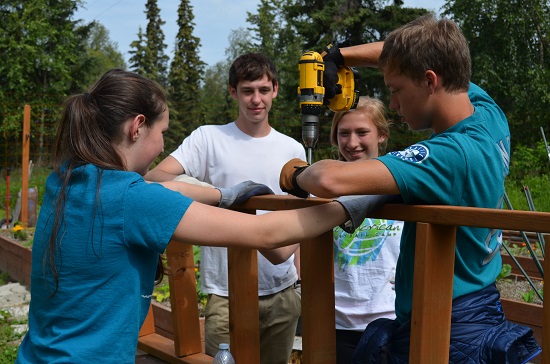 What a win-win, double-blessing it is when mission teams come to serve with us! Young people from all over the country get the chance-of-a-lifetime to visit our beautiful state and to be God's ambassadors in so many different ways. Agencies such as ours get to share our missions with these groups as we receive much needed support to accomplish projects that sometimes can't be attended to as we engage in our normal day-to-day operations.
Last week, thanks to Alan Budahl, Executive Director of Lutheran Social Services of Alaska, we were blessed to be included on the ambitious itinerary of the mission team from Zion Lutheran Church of Camas, Washington. Alan had called me several months ago asking if we could use any help this summer. I said Yes! Of course! And he sent the Zion team our way.
These amazing young people and their leaders accomplished so much in the day-and-a-half that they were here! Thanks be to God for their time, talents and treasures! They spiffed up our prayer and chapel gardens, stained our flower boxes, filled in and seeded our new retaining wall and playground area, and they built a new potting bench and planter for our vegetable garden. The Zion team also blessed our city in many other ways through their work at the Boys and Girls Club, the Anchorage Food Bank, Bean's Café and by leading a Vacation Bible School at Central Lutheran.
Our supporting denomination connections are an amazing blessing in so many ways. It takes a lot of hearts and hands to facilitate the healing that happens here at AK Child & Family. When people share their resources with us, our students and staff are the beneficiaries of that care. Philippians 2:1-4 tells us "if you have…..any fellowship with the Spirit…..then make my joy complete by being like-minded, having the same love, being one in spirit and purpose. Do nothing out of selfish ambition or vain conceit….Each of you should look not only to your own interests, but also to the interests of others."
We are so grateful for all those who share their time, talents and treasures with us – for all those near and far who are looking out for the interests of the young people we serve. When we reach out to one another and share our gifts in the spirit of helping, we are working together in the spirit of Christ's love.