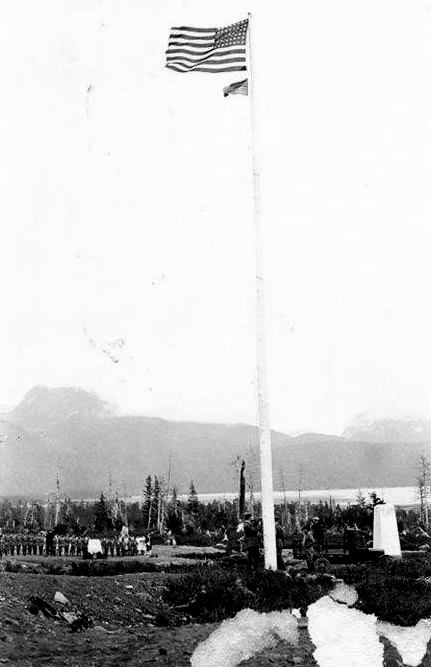 John Ben "Benny" Benson was born in Chignik, Alaska in 1913. His mother, Tatiana Schebolein, was a Russian-Aleut and his father, John Benson, was a Swedish seaman and fisherman. After his mother's death in 1926, he and his brother Carl were taken to the Jesse Lee Home in Unalaska. Benny and Carl moved to Seward with the home when it relocated in 1926.
In 1927, Territorial Governor, George Parks, announced a contest to design a flag to represent the territory. School children in 7th -12th grade could enter.
The night after the contest was announced by Benny's teacher at the mission school, all the boys and girls there collected crayons, paints and paper, and made many designs for the flag. Thirteen-year-old Benny sat quietly, thinking about the Alaska he loved, and what was most special to him about his homeland. He made many drawings, but one seemed to capture what was in his heart
Benny loved the Alaska winter sky with its deep blue and the sparkling stars of the Big Dipper. He made a simple design and added this explanation to his entry:
The blue field is for the Alaska sky, and the Forget-Me-Not, an Alaska flower. The North Star is for the future state of Alaska, the most northerly of the union. The dipper is for the great bear – symbolizing strength.
About 700 designs were entered in the contest. and 142 finalists were selected. These finalists were submitted to a seven-judge panel from the Territorial Legislature. Benny's design "Eight Stars of Gold on a Field of Blue" was their unanimous choice. the judges chose it for its simplicity, originality and symbolism.
When the telegram arrived at the Jesse Lee Home announcing Benny's success, the teacher opened it and gasped. She could not read it aloud. Her husband steadied her and read the telegram to the class.
Benny's classmates say his face turned pale and he was speechless. In celebration of Benny's achievement, school was closed for the rest of the day. As the years wore on, the shy youngster grew accustomed to publicity but in the early days, he recalled running and hiding in the woods to keep from having to talk to the many strangers who came to the Jesse Lee Home to meet the designer of Alaska's flag.
On July 9, 1927, Benny had the honor of handing Alaska' new flag to Territorial Governor Parks to be raised for the first time at the Jesse Lee Home.
When Benny grew up he lived and worked in Anchorage and Seattle. He eventually settled in Kodiak where he worked as a carpenter, ship fitter and aircraft mechanic. When Alaska became a state, Benny presented each member of the State Legislature with a handmade, autographed flag. Whenever Benny appeared at a public event, he was always received with a standing ovation.