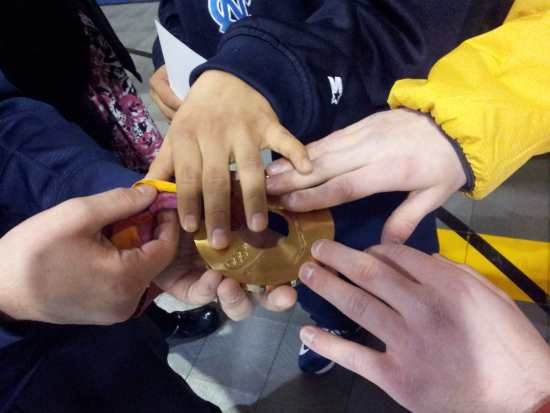 On February 12th, our staff and students had the pleasure of meeting 4 former U.S. Olympians: James Southam (Cross Country Skiing), Wendy Wagner (Cross Country Skiing), Lars Flora (Cross Country Skiing), and Pam Dreyer (Women's Hockey). All four competed in the 2006 Olympics and Lars Flora mentioned prior to meeting the students that this was the first time that himself, James, and Wendy had all been in the same room in 8 years.
They each took some time speaking to the group about their journey, how they started on the Olympic path, what motivated them, and how they overcame adversity. James mentioned that had had been cut from the Basketball team in high school and that was when he decided to take up skiing. He mentioned that he just kept trying, but that the great thing about it was that he was basically able to "play" and have fun until he was 32 years old.
Lars was motivated to become an Olympian after meeting Olympian Bill Cook at 12 years old. From that moment on he focused on training, having fun, and keeping good nutrition. While he lost sight of his goal and struggled with competitions for a while, he was able to get back on track and compete in the 2002 and 2006 Olympics. Today he travels around the state teaching kids how to ski.
Wendy spoke a lot about her perseverance and stubbornness that lead to her becoming an Olympian in 2002 and 2006. Growing up in a family living off of food stamps without enough money, it was difficult to find the funding needed to participate in sports. Her family finally found enough money for her to do Gymnastics. While she enjoyed the sport, she really wanted to be an Olympian and knew that Gymnastics would not be her sport to do so. Her parents gave her a pair of really old skis with which she came in as one of the top 3 in a race. After that, winning a pair of really nice race skis in a race was a major turning point for her. Despite all of this, Wendy was kicked off the U.S. International Racing team a couple of times, but worked hard and got back on to the team twice.
Pam shared stories about playing different sports as a child, but the Goalie for the U.S. Men's Hockey team in 1994 Olympics became her idol. At the time that she had the goal of being in the Olympics, there was no women's Hockey. She set out to be a female on the men's team. Some of the adversity she faced was getting cut from teams because of her gender or her age; and pushing herself harder than anyone else, even pushing through asthma attacks she would have on the ice. She is one of the few Olympians that never made it to the Arctic Winter Games, she was cut twice. She brought her hockey helmet from the Olympics and her bronze medal. The youth enjoyed getting to touch and feel the medal and how heavy it was. Pam's advice to the youth was "just go out an have fun, get outside, play, and have fun!"
The students were able to ask the Olympians some questions, speak one on one with them, and get signed autographs after the Q & A portion. Some of the questions asked were: How has being an Olympian changed your life? Would you have been able to be as successful if you were an amputee? How has peer pressure affected you along your journey? And how important has nutrition been to your success?
A few parting words of wisdom that came from their answers to some of these questions were: Peer pressure affects everyone in so many different ways. Find your goal and find a way to chase it. Things don't happen overnight, go everyday at a time. Focus on the things you have control over. You aren't going to get there if you don't keep trying.
If you are interested in becoming a Community Role Model guest at our agency, please contact Rachel Coulter at 348-9294. We appreciate your support!