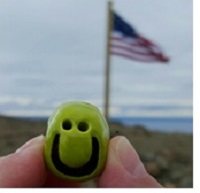 All along the way, the boys displayed the activity courtesies that we, as staff, teach them through recreation class, treatment assignments, and milieu therapy. I was very proud that each one tried to be genuinely helpful to each other and those around them.
One boy in particular showed a great deal of community support by digging foot and hand holds into the last 12-feet or so of snow leading to the top. He did this on his own when he saw that others were struggling to get to the top. We all made it, in part, because we had a sure way up.


Three Oliver boys, myself, a coworker, and my new hiking partner, Hank all climbed Flattop
On the way down the mountain, I was made aware of the impact that our student had on the community of hikers there. I met several others who did not make it to the top and many who did. There were reports that "whoever made those steps in the snow is a life saver". I pointed to our young man and said "that's the one".
Later in the van, I offered kudos to the boys in general, then I pointed out more specifically to the student contribution to community support. He blushed and smiled with pride. Later at the unit when I could look him in the eye, I reiterated his accomplishment and told him how proud I am of him, he said, "that makes me proud of myself". He wrote about it later in his journal too.
I look forward to many more hikes with the Oliver boys, there are many life lessons to be learned in those mountains.