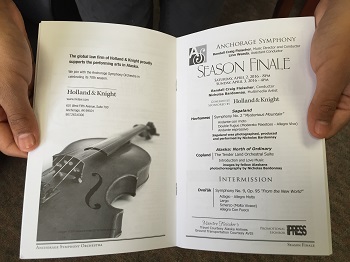 My family always goes to Phoenix during winter here in Alaska. We are snowbirds, I think the word is. Anyway, a couple of days ago my family left Phoenix, Arizona and came back here to Alaska. I already knew that a couple of days after we arrived in Anchorage we would be going to another symphony, so I was really excited and anxious to get back.
Well, after a couple of days' wait, it was symphony day. I had made sure to bring back some nice jeans and slacks from Arizona, so I would look nice at the symphony. It didn't take that long for my whole family to get ready and get into the car. Then we went to another night (afternoon, actually) to the symphony [By the way, I couldn't remember which number symphony this is, so I just wrote another trip to the symphony].
I have to admit, before we got there, I wasn't all too sure what the symphony was going to do. But when we got there, I was surprised. Let me get to that a little later, though.
As soon as my family and I walked to the door, I immediately saw a couple of old friends, some that I hadn't seen in a long, long time, and it was nice to see them again. It was also great to see my friends from the Anchorage Symphony Orchestra, they seemed excited to see me and commented on how much I have grown this year. I was happy to see them and it made my day that much better (not that I thought the day could get better, with the symphony and all happening that day).


When we got to our seats, I saw another old friend. I won't say his name, but it was nice to see him again. We got there just as the ASO was warming up. Then, after a brief wait, it started!
I was surprised that while my family and I were in Phoenix, almost a whole ASO season had passed. I had no idea that the symphony we were going to was the season finale. I was also surprised to find out that this was the seventieth anniversary of the ASO. I've missed attending the symphony. I think Arizona has a symphony but I don't know if it would be the same as the ASO as they are very special.
After the maestro talked about next season and about the end of the seventieth season, the music started.
I had heard that there was going to be images, but until I saw the three paneled screen slide down, I didn't know how they were going to do that. I watched as the music and the pictures began at the exact same time.

It was awesome! It was a great collection of pictures from Alaska and different pictures from places like Iceland, I believe. I noticed that the tune of the music applied to the pictures it showed on the screen. For example, when the music got to a couple of high notes (actually, a lot of high notes), it showed a bunch of peaceful waterfalls that completely matched the tune of music. Then, when it showed some pictures of huge mountains, the music had turned to a sound that was both grand and majestic. It was amazing. I liked how the pictures faded one by one and also I liked how they set up the pictures. I liked how, when it didn't show one big picture, when it showed three or two pictures, I liked how those pictures were about the same topic. For example, I remember seeing one picture that took up two panels being a picture of brightly painted sheds and then another picture of a brightly painted building to go along with it.


My whole family loved it. My dad, being a pilot, had seen a lot of the pictures it had shown in Alaska from up high in the air. And my mom, when the images stopped and intermission happened, had to wipe tears from her eyes. She told me later that was because it had brought back many good memories.
Thank you so much ASO for giving me and my whole family tickets to the season finale. We had so much fun! I could not believe that some of those pictures were actually a part of Alaska, and how beautiful they were. I loved the combination of music and pictures, and my family and I really enjoyed attending the Season Finale. Thank you so much. We really appreciate it.